2020 Lincoln Navigator in Fredericton, NB

2020 Lincoln Navigator at Riverview Lincoln
If you enjoy driving luxury vehicles, then you should love Lincoln cars. Generally, Lincoln is one of the best manufacturers of luxury sedans, SUVs, and crossovers. In recent years, Lincoln has been incorporating more and more technology in the production of their cars, which is vital in boosting their capabilities, and making them more luxurious each year. We at Riverview Lincoln are the authorized Lincoln dealership in Fredericton, New Brunswick, and we serve Hampton, Saint John, Oromocto, Sussex, and Woodstock.
The 2020 Lincoln Navigator is a mighty luxury SUV because it has a powerful engine that is also turbocharged. The turbocharged engine allows this luxury SUV never to lag when it comes to speed capabilities, regardless of the road conditions. Its interior is very spacious, which typically adds to the comfort and functionality of this vehicle. Its exterior styling is modern, and it looks elegant, which makes this vehicle stand out on the road. While the 2021 Lincoln Navigator is primarily a luxury SUV, its towing ability is impressive as it can tow at least 3,946 kgs, and its performance will still be at optimum.
Technology Features
Lincoln Navigator is well-endowed as far as technology is concerned since it features the most modern functionality features. Through the Lincoln Way app and an active Lincoln Connect subscription, you can use your smart device as a car key using Bluetooth connectivity. The Navigator offers other functional features such as Head-up Display, Enhanced Active Park Assist, Adaptive Cruise Control, Adaptive LED Headlamps and Personal Profiles per key.
2020 Lincoln Navigator Interior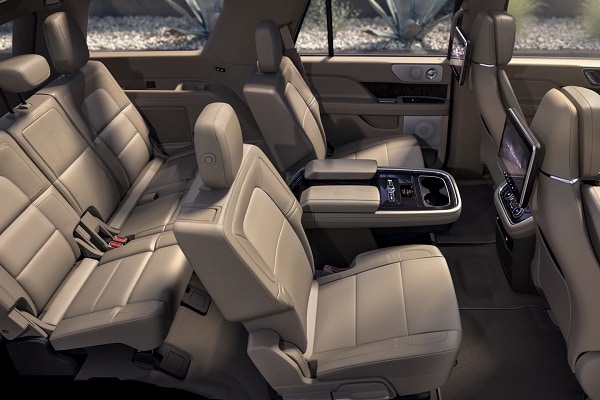 This SUV's interior is stunning because of its spaciousness, and its design is also unique and luxurious. This vehicle has many comfort features to offer because it features luxurious materials across its cabin and upholstery. For instance, the front seats have a comfort level out of this world because of their unique features. The personal profile is created for each key holder, allowing for automatic adjustment of the seats, mirror positions, pedals, climate control settings, and other infotainment settings. The other two rows' seating arrangement is impressive since they have sufficient spacing between them for adequate legroom. The cargo space is broad and long, allowing the driver to enjoy any activities without disassembling their equipment during commutes.
2020 Lincoln Navigator Exterior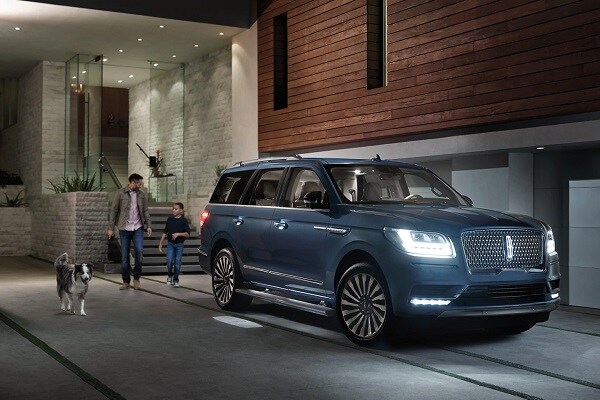 This SUV's exterior symbolizes pure elegance and class due to its sharp features and long sweeping lines. The front-end is immaculate with its gorgeous grill featuring a Lincoln logo in the middle, complementing the hood curves perfectly. The headlights are in an excellent position to ensure that they function well, especially when illuminating the road at night. The door handles offer a backup code to access the vehicle without having the key present. The side mirrors also work well because it is easy to view a wide-angle due to their large presence. The Navigator dominates the road with its large wheel offering and high stance, making it the perfect all-around vehicle for every family.
Performance Specifications
The performance of this SUV is incredible, mostly because of its standard engine option. The twin-turbocharged engine has a massive horsepower of 450, which allows this SUV to accelerate smoothly and efficiently. The engine is paired to a standard 10-speed automatic transmission system, allowing for a smooth and efficient driving experience. Its suspension is also unbelievable since you will never feel a slight discomfort because of rough roads, and it features power steering, allowing everyone to enjoy this SUV.
Financing Options
Contact Us at Riverview Lincoln for more information on the 2020 Lincoln Navigator in Fredericton, New Brunswick, and also be sure to check out our New Inventory on Lincoln vehicles. Reach out to our team of experts to begin the process of owning your perfect Lincoln, as they will ensure that you find the right vehicle for your specific needs. Please schedule an appointment to test drive one of our new Lincoln to experience the features and advantages of owning a Lincoln vehicle. Once you find the Lincoln of your choice, please fill out a financing application through our financing department to begin the process of ownership.
2020 Lincoln Navigator Inventory in Fredericton, New Brunswick